Vietnamese food is always in the top 10  reasons why ex-pats choose to live in Vietnam, and Da Nang as the heart of the Center offers a wide variety of specific local dishes, as well as a plethora of restaurants that are bringing the cuisines of other provinces to add to the rich and colorful pallet of choices.
The food that is specific to Central Vietnam is a great balance of flavors that reflects the geo-location within the country. The people of Da Nang like their food spicy, but they don't necessarily put the heat into the cooking, but with pretty much every dish you have a few choices of adding a bit of chilly in, one way or another, to your own liking.
My Quang is by far the region's favourite dish, originating from the province of Quang Nam (which Da Nang used to be a part of before becoming a municipality), the thick rice noodle served with a little turmeric based broth and usually contains a mix of pork, chicken, shrimp and quail egg, but it can be found in different variations.
It's served with fresh vegetables, lime and roasted peanuts and you can find it at pretty much every other street corner, and it's usually pretty good, expect to pay between 20,000 to 35,000 VND. (my favourite spots are 115 Hoang Dieu and My Quang Ba Nam 89 Đống Đa)
If you are not a fan of street corner eateries, you can enjoy place like My Quang Ba Mua or a hidden local gem like Mì Quảng Giao Thủy on Ba Dinh street.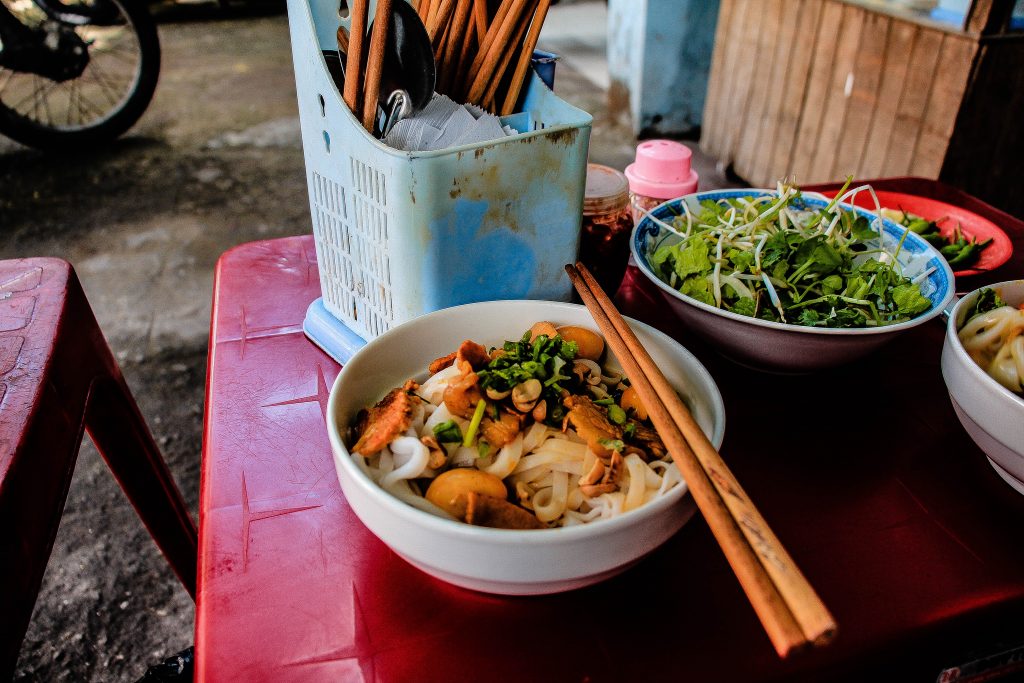 For something really unique, I would highly recommend NuDo – Master Chef Noodles, where chef Tuyet makes her local favourite dish the superstar of the comfortable garden eatery she is hosting. Tucked away on a small street of My An area, that is gradually becoming most popular with expats, choosing to rent apartments or houses there due to the proximity to the beach, diverse housing stock and the convenience of amenities. NuDO offers an intimate and laid back eating experience, elevating Mi Quang within 4 variations not by changing anything fundamental, just by cooking everything perfect with fresh ingredients and the attention and passion of a chef that believes in their food.
Banh Canh is also a special noodle soup dish very popular in Central Vietnam, the noodles are usually made of tapioca flour (or a mix of rice and tapioca flour).
Although the The snakehead version (Banh Canh Ca Loc) is famous in the cuisine of Hue city, the taste in Da Nang is slightly different and there are some more diverse combinations of toppings.
It's a very common side-walk comfort dish and can be found easily across the city from 20-30k for a ball. My personal favourite is Banh Canh Thu on ?? Nguyen Chi Thanh, where they offer a varied choice of toppings and both types of noodles (bot loc or bot gao)
Bun Mam – is a well-known specialty noodle very popular with local people of Da Nang. A delicious dry noodle with fresh vegetables, boiled pork belly, and roasted jackfruit it can be a bit of a challenge for foreigners due to its base sauce (Mam)- which is fermented dry anchovies sauce that usually have a very strong and pungent smell, but it can be what they call….an acquired taste. It's hard to point to a certain specific location that serves a "famous" one, but if you are keen to try, you can usually pick up the smell whilst walking around the city. The banh mi lady (Co Pham) next to Cong Spa on Tran Phu street makes a pretty tasty Bun Mam too, if you fancy a quick bowl of street food right in the heart of town.
Bun Cha Ca – another staple of the Central Vietnamese cuisine is Bun Cha Ca (Fish Cake Noodle) a delicious sweet and sour noodle-soup. With a tamarind and pineapple base broth, you can get different variations of fish and the core ingredient is the savoury Vietnamese Fish Cake, sometimes paired with Crab Cake too. One of the places most recognized for serving a delicious Bun Cha Ca, apparently being one of the first restaurants to popularize this dish in Da Nang decades ago is Bun Cha Ca 109 (pretty self-explainatory name – on 109 Nguyen Chi Thanh) where for 30k VND you can get a big hot, delicious bowl.
Local Specialities – drinking beer and eating is a very common cultural practice in Vietnam, and Da Nang is not behind when it comes to a great variety of options.
Almost every successful Quan Nhau has their own speciality dish that they are taking a lot of pride in, as customers can also be very picky about their food. I was lucky to discover a few of these gems and became a loyal customer to a lot of them. It was quite pleasing to learn latter from my local friends, that some spots I discovered purey random are rated as very "famous" and "well-established" eateries.

Along half of Le Lai street, every evening after 4 PM the sidewalk of  Quán Hùng Xiệc is bustling with people. Their staple dish is cá chiên xoài (fish fried with mango) a muscly white fish steamed and then fried with a sweet chili sauce and covered with green mango, an absolute delicacy, but their menu is quite comprehensive (it is only in Vietnamese, but has a lot of pictures) including local favorites Chip-Chip hap (small clams boiled with lemongrass and ginger) and a delicious selection of Lau, the Vietnamese version of hot-pot, very popular throughout the country, which each region bringing its own twists and takes.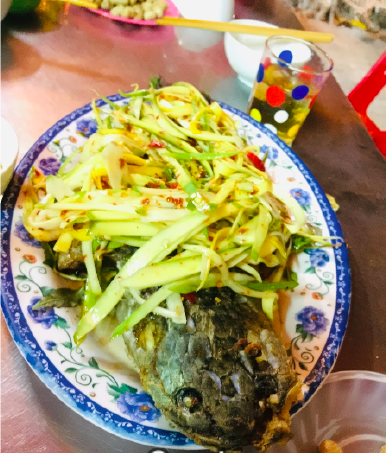 Close to Con Market (oldest and biggest market in Da Nang city) at 244 Hung Vuong we can find Quan Tuan cooking the most delicious Vietnamese-style chicken wings, with their signature spicy sauce, it makes the great dinner time snack for a cold-beer with friends. The other dishes on their limited menu are also definitely worth trying, the special sticky rice (Xoi) and the grilled pork belly (Ba Chi Nuong) make a well balanced treat.
Another one of my go-to Nhau places is Nhúng Ớt Quan located on 10 Phạm Quang Ảnh, a big space with a very comprehensive menu ranging from fresh seafood to vegetarian dishes that is absolutely heaving 7 days a week.
The owner, mr Thanh honed his craft as a chef for Intercontinental Son Tra peninsula for 8 years before opening his own place (now he is up to 4 branches across the region). With that experience and creativity he puts a "fancy" spin on traditional Vietnamese "drinking food", my personal favourites on the menu are his staple dishes Nhung Ot (beef dipped in spicy tomato sauce) and Xoi Ga….( a fried sticky rice "cake" stuffed with pulled chicken and herbs).
As a young successful entrepreneur Thanh is a prominent figure of charity projects helping the misfortunate people in and around Da Nang and Quang Nam, with a part of the profits from his restaurants going to support a series of charitable projects, some of which he runs with a very hand-on approach.
For the late night gatherings with friends, my personal favourite is Quan Kieu Trinh, squeezed on a 2 level side-walk on Pham Van Dong boulevard. This is another popular beer restaurant that is bustling daily (or better said nightly) until 4AM serving a great selection of sea food (their speciality is Ca Dui Nuong – grilled stingray – absolutely delicious) and other tasty options with very reasonable price (the menu has – not very exact – English translation).
I was only living as an expat in Da Nang for less than 2 years and I always find exciting new places to eat, this is only a short list of my personal favourites, from what I discovered so far.
If you have any other hidden gems to share, or you think I missed out on anything that should have been obviously listed, please share your thoughts.